Cast & Crew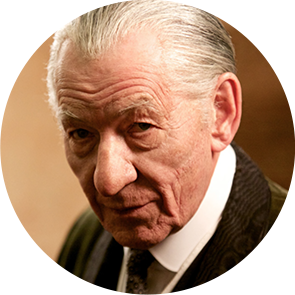 Ian McKellen
as
SHERLOCK HOLMES
Ian McKellen has been honored with over 50 international acting awards during his half-century on stage and screen. He is treasured worldwide as Magneto in the X-Men films and Gandalf in The Lord of the Rings and The Hobbit trilogies.
He first worked with director Bill Condon as James Whale in Gods and Monsters (1998) receiving his first Academy Award® nomination, for Best Actor. The same year, top critics' groups elected him Best Actor, as the Nazi-in-hiding in Bryan Singer's Apt Pupil. For his classic performance in Richard Loncraine's Richard III, which he produced and co-wrote, he was named 1996 European Actor of the Year.
His varied list of other renowned films include The Keep (1983); Plenty (1985); Scandal (1988); Six Degrees of Separation (1993); Restoration (1995); Bent (1997); Cold Comfort Farm (1995) and The Da Vinci Code (2006).
On the small screen, McKellen currently stars in the wickedly successful ITV/PBS sitcom Vicious. For his extensive television work, McKellen is a five-time Emmy nominee, most recently for his matchless King Lear (2008); and his comic guest spot on Extras (2006) remembered for the viral catch-phrase: "How do I act so well?" He is most proud of his work as the mentally-handicapped Walter (1982 Royal Television Award) in And the Band Played On (1993 Cable Ace Award), about the origins of AIDS and a guest spot in UK's longest-running soap Coronation Street (2005).
Born and raised in the north of England, 76 year old McKellen attended Cambridge University and since 1961 has worked non-stop in the British theatre. He has been leading man and produced plays, modern and classic, for the Royal Shakespeare Company and the National Theatre of Great Britain and in the West End of London. He has won Olivier Awards for Macbeth (1976-78); The Alchemist (1977); Bent (1979); Wild Honey (1984) and Richard III (1990): plus Evening Standard Awards for Coriolanus (1984) and Othello (1989) and for Outstanding Contribution to British Theatre (2009).
In 1981, he won every available award, including a Tony for Best Actor, as Salieri in the Broadway production of Peter Shaffer's Amadeus. He was most recently in New York in No Man's Land and Waiting for Godot with Patrick Stewart after breaking all box-office records in London and on UK and world tours. Over a decade, he toured his solo entertainment Ian McKellen: Acting Shakespeare throughout four continents, where on DVD it is daily viewed in schools and universities. He astonished his fans as Widow Twankey in the Christmas pantomime at the Old Vic in London (2004 & 2005).
In 1991 Sir Ian was knighted, for his outstanding contribution to theatre. He is co-founder of Stonewall UK, which lobbies for legal and social equality for gay people. In 2008, the Queen personally appointed him Companion of Honour for his services to drama and to equality.
Complete professional credits and personal writings are on www.mckellen.com.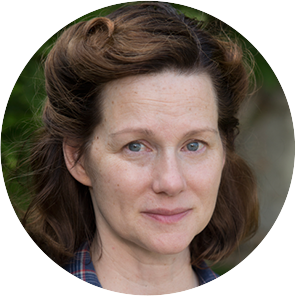 Laura Linney
as
MRS. MUNRO
Laura Linney is an American actress who works in film, television and theatre.
She has been nominated three times for the Academy Award®, three times for the Tony Award, once for a BAFTA Award, and five times for the Golden Globe.
She has won one SAG Award, one National Board of Review Award, two Golden Globes and four Emmy Awards. She holds two honorary Doctorates from her alma maters, Brown University and The Juilliard School.
Her film work includes the upcoming Genius, directed by Michael Grandage alongside Colin Firth, Jude Law and Nicole Kidman, written by John Logan. She has appeared in You Can Count on Me, Kinsey, and The Savages (nominations), The Fifth Estate, Hyde Park on Hudson, The Squid and the Whale, Mystic River, Absolute Power, The Truman Show, Primal Fear, The Mothman Prophecies, Love Actually, P.S., The House of Mirth, The Details and Congo, among others.
She starred and produced the Showtime Series The Big C for four seasons for which she won a few awards, as she did for her portrayal of Abigail Adams in the HBO miniseries John Adams directed by Tom Hooper. Early in her career she starred as Mary Ann Singleton in Armistead Maupin's Tales of the City series, a job for which she continues to be most grateful and proud. She appeared as Kelsey Grammer's final girlfriend in the last six episodes of Frasier, was directed by Stanley Donen in Love Letters, and starred opposite Joanne Woodward in Blindspot.
She has appeared in many Broadway productions, most notably Time Times Still and Sight Unseen both directed by Daniel Sullivan and written by Donald Margulies, and Arthur Miller's The Crucible directed by Richard Eyre opposite Liam Neeson with whom she has worked many times. Other plays include Six Degrees of Separation, Honour, Uncle Vanya, Les Liaisons Dangereuses, Holiday, and The Seagull.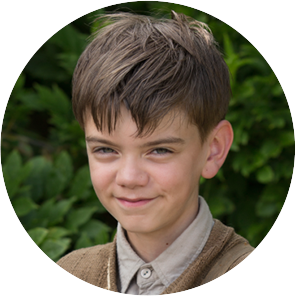 Milo Parker
as
ROGER
12 Year old Milo Parker trained at Youngblood Theatre Company and made his acting debut in Jon Wright's Sci-Fi feature Robot Overlords alongside Ben Kingsley & Gillian Anderson which is due to be released in 2015.
This was followed by the leading role in Ghosthunters: On Icy Trails alongside Anke Engelke directed by Tobi Baumann for Lucky Bird Pictures and Warner Bros. Germany, which will also be released in 2015.
Mr. Holmes is his third feature film.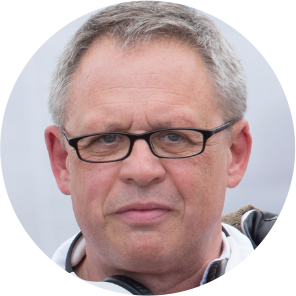 Bill Condon
the
DIRECTOR
Bill Condon is a celebrated film director and screenwriter who previously worked with Ian McKellen on Gods and Monsters, earning McKellen his first Oscar® nomination and Condon an Academy Award® for Best Adapted Screenplay. Condon also wrote and directed Kinsey, starring Liam Neeson and Laura Linney, and wrote the screenplay for the big-screen version of the musical Chicago, for which he received a second Oscar® nomination. His adaptation of the Broadway smash Dreamgirls featured memorable performances from Beyoncé Knowles, Eddie Murphy, Jamie Foxx and won Jennifer Hudson an Academy Award® for Best Supporting Actress. Condon also directed The Twilight Saga: Breaking Dawn Parts 1 and 2 and The Fifth Estate, featuring Benedict Cumberbatch and Daniel Brühl. He recently made his theatrical directing debut with the critically acclaimed revival of Side Show, which played engagements at the La Jolla Playhouse and at the Kennedy Center in Washington D.C., prior to its celebrated return to Broadway. Condon serves on the board of Film Independent as well as on the Board of Governors on the Academy of Motion Picture Arts and Sciences.